Regular price
Sale price
$79.99 USD
Unit price
per
Sale
Sold out
4 x 1 oz (30 ml) bottle of DOUBLE Strength Ultimate Gum Solution.
This is our most popular bundle. You can stock up yourself or give it to friends and family.
We recommend DOUBLE Strength for more serious gum disease.
Ultimate Gum Solution is a 100% natural liquid drop with strong antibacterial ingredients. It helps relieve painful gum and tooth issues and can help treat bleeding or swollen gums, canker sores, Gingivitis, Periodontitis, gum loss, toothache or bad breath.*
Subscribe to regular delivery and SAVE 20%!  You can cancel, pause, skip or reschedule the subscription at any time. 
* These statements have not been evaluated by the Food and Drug Administration. This product is not intended to diagnose, treat, cure, or prevent any disease.
Size

- 1 bottle: 1 oz (ounce) = 30 ml
- Serving Size: 5 drops/usage - about 1/3 ml
- Servings Per Container: 450 drops
Light usage: 1 serving/day = about 90 days
Heavy usage for serious problem: 3 servings/day = about 30 days
Ingredients

Main Ingredients: Morinda Citrifolia, CoQ10, high concentrate Vitamin A/B2/B9/C/E/D/K,
Additional Ingredients: ginseng, ginkgo biloba, organic seaweeds, fulvic acid, organic aloe vera leaf, kelp, lutein, wild blueberry extracts, some amino acids, enzymes,
and minerals.
Usage Instructions

Brush your teeth as normal then apply 5 drops of UGS on gums thoroughly 1-3 times a day depending on need. Apply with toothbrush or rub in with finger if sensitive. Make sure drops reach infected areas.
Rinse mouth with drop/saliva mixture for maximum result then spit it out or swallow.
Don't eat or drink anything other than water for the next 30 minutes to maximize the effects.
We recommend using UGS as part of your regular oral health maintenance, just like brushing or flossing, to keep bacteria at bay and prevent any serious gum infection.
Shipping & Returns

Shipping: Ships with US Postal Service First Class Package with tracking unless indicated otherwise.

Returns: We have a 365 days 100% guarantee. If you are not completely satisfied, return the unused product with your original receipt, and we will refund 100% of your purchase price.
Share
View full details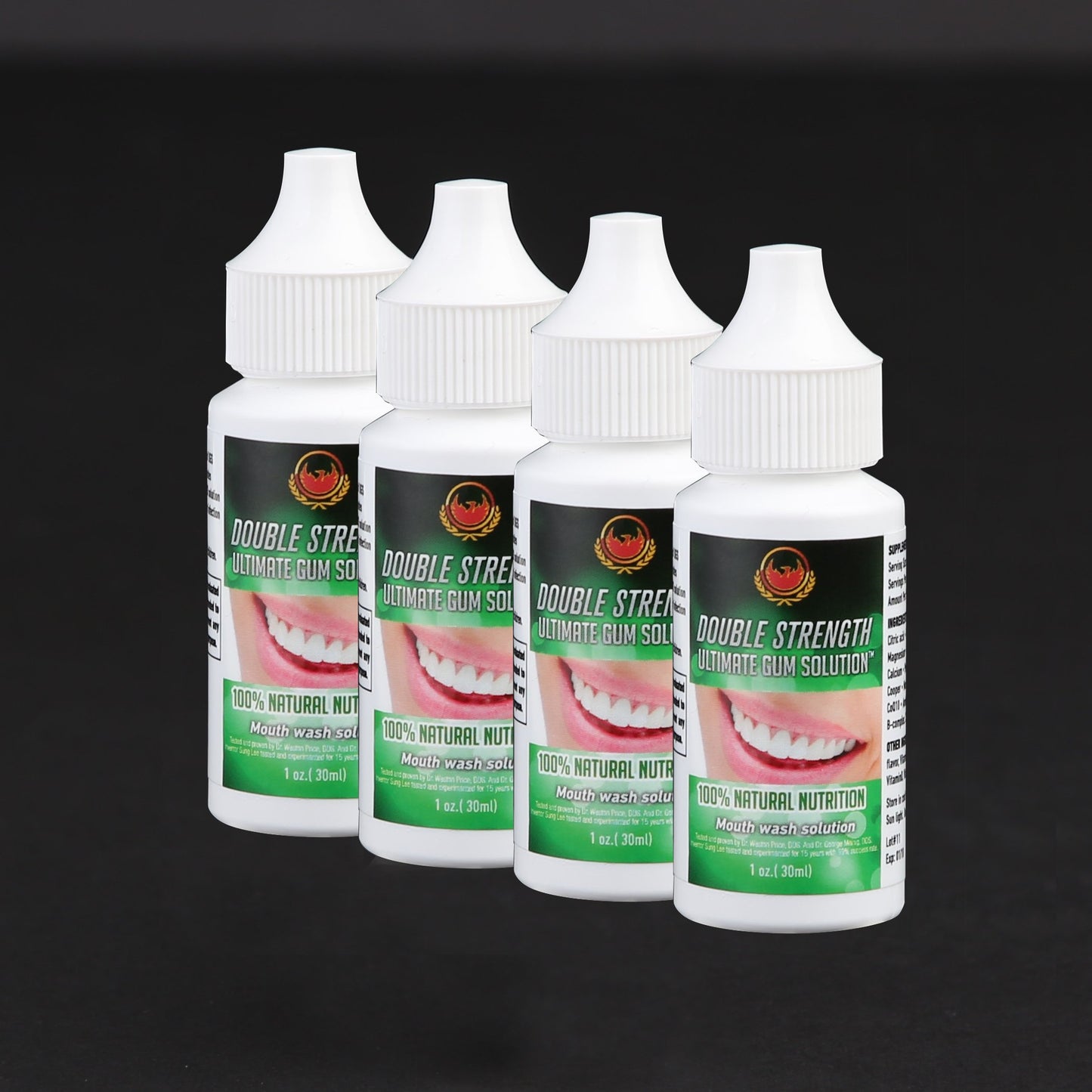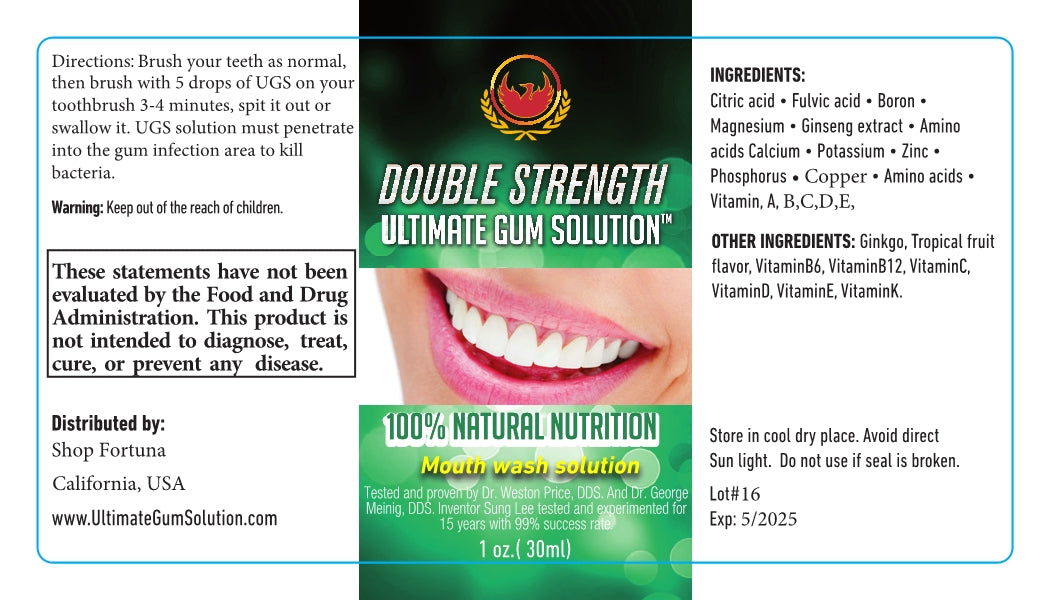 Awesome Product
This is the best product for any gum related issues you might have. It even stops tooth pain. This Product eliminates gum pain, gum swelling, gum bleeding, abscess, even tooth pain. It prevents tooth decay as well. I've tried just about everything out there and when I found this product, I stopped searching for another solution. Before I used this product, I was told I needed a procedure called scalping. It costs two thousand dollars. But when I started using this product my gums became pink and healthy. On my next cleaning appointment, the hygienist told me that my gums looked great and that I should keep doing whatever I was doing. I've been using this product ever since. If you want healthy teeth and gums than this product is for you. I'm not paid to leave this feedback nor am I shareholder in this company. I'm just leaving honest feedback about my experiences with this awesome product. It worked so well for me that my wife now uses it. She had a couple of sensitive teeth. She used this product and her teeth problems were healed. It's an all natural product too. No chemicals of any kind. It's a must try if you have dental issues.
Works for canker sores and bad breath
I ordered this to try it out for my son's strong bad breath, of which nothing seemed to work before, even though we tried many things. His breath was especially bad after waking up in the morning. He only used it for a week, brushing his teeth and gums with it before going to bed, and his bad breath is completely gone. I keep sniffing him until he get annoyed to find any smell but nothing. This thing really does work.
Oh, and I happened to develop a canker sore so I figured to try UGS on it, and surprise, the pain went away within half an hour, then applied it a few more times and the whole thing was gone the next day. I will keep this on hand.
If this product keeps my gums healthy and also prevents bacteria from getting into my tooth with a root canal. I stopped using Ultimate Gum Solution after I ran out once. My tooth with a root canal started having a funny feeling to it. The same feeling my other tooth with a root canal had before it went bad. I started using it again and that feeling went away and my root canal is still good. There is no other product on the market like this one. It is truly unique.
Used this product for a few years . Gum or tooth pain really helps relieve the pain. Gums much more healthy
Love Ultimate Gum Solution
Dear Felicia, As you know I've used Ultimate Gum Solution years ago and I managed to save lots of my teeth and my gums so I believe in it's healing powers of its herbs and vitamins. Ultimately Gum Solution helped me when I've had suffered from gum sores and pain. So I thank you for your excellent service to me and to humanity at large. And I am very grateful and appreciate all your hard work and effort in getting Ultimate Gum Solution out into the world. Peace and love always 🙏